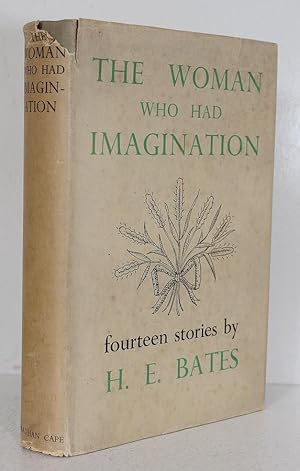 Shop H.E. Bates Online
ID

a20

Title

The Woman Who Had Imagination and Other Stories.

Genre

Story Collection

Page Count

288

Publisher

Jonathan Cape
Macmillan

Publication Year

1934

Document Types

Full-text Online
London: Jonathan Cape, 1934 (February 26); New York: Macmillan, 1934. Bates's fourth collection of short stories includes rural mood pieces similar to earlier work, tales of children and the aged (again in line with earlier work), two urban stories, an autobiographical reminiscence, three stories that introduce the comic narrator Uncle Silas, and two complex psychological studies. Graham Greene, writing in the Spectator lauds the collection as "the first volume of Mr. Bates's maturity" and Bates as "an artist of magnificent originality with a vitality quite unsuspected hitherto." The reviewer in the New Statesman found that the collection displays Bates's "art at its clearest, simplest, and most impressive -- an art which, although it is expressed in a beautifully sober and unornamented prose style, is pitched very often in an almost poetic key." The Times said "his tales have, what current short story writing of the more literary type so often lacks, a real vitality, a kind of sunlit vivacity of phrase and incident, which gives brightness to stories even of relatively sombre theme. His range is wide, and seems increasing." Geoffrey West called Bates "a continuously exciting writer, for with all his accomplishment he has not yet ceased to grow."
Online Full Text at Hathi Trust Digital Library. Reviews: English Review (v. 58, p. 497, 1934) John O'London's Weekly (March 10, 1934, attached) Listener (March 7, 1934) New Statesman (March 10, 1934, attached) New York Times (August 12, 1934, p. BR7, attached) Saturday Review of Literature (July 14, 1934, p. 809, attached) Spectator (March 16, 1928, Graham Greene, attached) The Times (February 27, 1934, p. 9, attached) Times Literary Supplement (March 1, 1934, p. 142, Geoffrey West, attached) Contains: The Lily, The Story Without an End, The Gleaner, The Woman Who Had Imagination, Time, A German Idyll, For the Dead, The Wedding, The Waterfall, Innocence, Millenium Also Ran, Sally Go Round the Moon, The Brothers, Death of Uncle Silas.
Read More
---
Downloads
The below reviews and articles are available in PDF format.